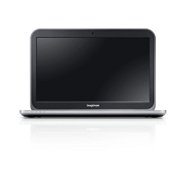 It is getting to that time of year when vendors introduce new machines and start to have sales to grab some of the Christmas buying purchases. For portable computing, one of the newest options this year is a configuration dubbed the Ultrabook.
It is still a laptop, but Intel defined this configuration to better target those looking for lightweight devices with longer battery life. Think "slim Windows-based PCs that competes with the iPad or MacBook Air."
It has a touch screen, but still offers a full keyboard. They are great for watching movies on the go, but still have a full-fledged operating system that you can use on the Internet at the local coffee shop to check in on your Facebook friends or read your email. Here's a quick look at what differentiates an Ultrabook system to that of a regular laptop.
After extensive research, primarily due to loss of market share to Apple products, Intel felt the need to come up with a configuration to compete with tablets and the MacBook Air. Anything dubbed an Ultrabook is blessed by Intel and will have an Intel processor.
That Intel oversight is not necessarily a bad thing; it provides a common configuration that manufacturers can shoot for and an expectation that consumers can have when looking for new machines. It is characterized as being a high performance, ultra thin machine with longer battery life, faster startup and built-in, on-the-go security.
Is an Ultrabook right for you?
Without the labeling, a new laptop could be a top-of-the-line machine, but it won't necessarily be as thin. The ultrabook specs actually designate a maximum thickness; nothing over a certain size can call itself an ultrabook.
Most ultrabooks have a good battery life, but they don't have a guaranteed minimum. Obviously, usage patterns control the overall life, but a five hour minimum should give you time to watch a couple of movies.
There should be minimal performance differences between a regular laptop and an Ultrabook, with a regular laptop being potentially faster since it doesn't have to fit into a smaller space and consume less power. The faster startup time can be a savior if you need to get a movie going fast with that screaming child; waiting for Windows to restart with a regular laptop to watch your favorite DVD can be painful.
One of the more important features is actually totally hidden, which involves some enhanced on-the-go security. The new spec comes with Intel Anti-Theft Technology (Intel AT) and Intel Identity Protection Technology (Intel IPT) that can lock down a stolen machine, and later unlock it, with no loss of data. The added encryption also helps to remove man-in-the-middle type attacks from sites supporting the new technology.
Does anyone actually create a machine that follows Intel's ultrabook specs and can compete with the MacBook Air? Samsung's Series 9 comes in as a strong competitor. With Christmas coming, more competitors will undoubtedly debut as well. For many people, the question isn't laptop versus Ultrabook, it's Apple vs. Windows. If you decide to stick with a Windows-based platform, a laptop adopting the new specification will make you happy.