One of the features of the old Pinterest that I loved (and used frequently!), was the ability to check the little box to "Tweet The Pin." In fact, most of my pins happened during Twitter Chats where I would encourage my guests to share pins and they would auto-tweet (since we included hashtags) into the Twitter Chat.

When Pinterest came out with the *New* Pinterest, I was eager to change and see all the new features. I was surprised to find that the Twitter checkbox was gone! The Facebook option was there, but it was within the account settings of the Pinterest account and no longer appeared as an option per pin. Personally, I liked the granular control of deciding, for each pin, whether I wanted to send it to Twitter and/or Facebook. I did not really want to subject my Facebook friends to every pin that pops through my head.

While interviewing Dan R. Morris, from LettersFromDan.com, he mentioned some great tips and how to get creative in the use of the new Pinterest. One of the things he mentioned was the use of ifttt.com. As of the interview, Dan hadn't had the opportunity to find what is called a "recipe" on the ifttt.com site, to do the task that Pinterest removed. But, that recipe does exist and I will share how I have implemented it.
How To Automatically Tweet Your Pin (using IFTTT)
First, if you haven't already, sign up for an ifttt.com account. Make sure that you authorize your Twitter account with ifttt so that ifttt has access to send a tweet on your behalf.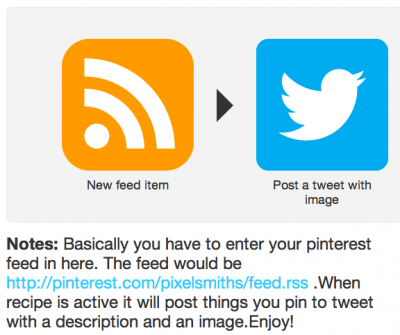 You will want to find a ready-made "recipe." The one that I used was created by ruansmit and is found here.
Once you have selected the recipe and added it to your account, there are a couple of changes you need to make. One is the Pinterest feed to read. The recipe has the url pre-configured for you, so all you need to do is replace the username with your Pinterest username.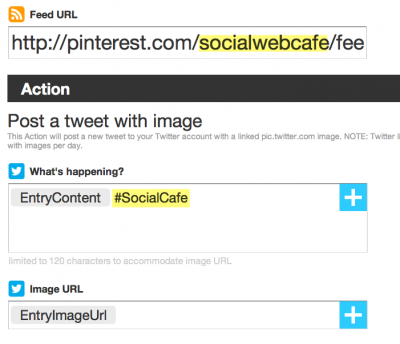 I added a hashtag to the "What's Happening?" section. I realize that Pinterest no longer recognizes the hashtags, for searches, but, since I am sending this out via Twitter, I still want it to be searchable, via hashtag, on Twitter.
After waiting about 15 minutes following my pin (IFTTT runs the script every 15 minutes), I am able to see the tweet that IFTTT created for me, automatically.
Are You Pinterested? Using Pinterest Effectively w/ @SocialWebCafe & @TheBlogWorkshop 5/7 9P EDT … pic.twitter.com/AwY1vN0Vds

— Deborah (@socialwebcafe) May 6, 2013
So, there you have it.  You can continue to pin your favorite pins and IFTTT will automatically tweet it for you. All you have to do is pin!
Featured images:



License: Image author owned




License: Image author owned




License: Image author owned




License: Image author owned
Deborah Anderson shares social media tips and social time via a weekly Twitter Chat that she and Da Vinci host every Tues 9p EST/EDT. They also have regular Google Hangouts for an interactive time with SocialWebCafe.TV. Hook up with Deborah on Google+ and join her in a hangout.